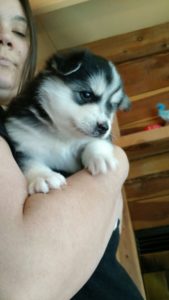 We have puppies right now and expecting some great litters in 2018!
You can go directly to our wait list/puppy application here. Please read our policies and procedures for how puppies are selected here before sending an application.  Puppies who are not selected by our waiting list are shown on the Available Puppies page. All puppies are sold with a 3 year health guarantee, shots and worming, IPA registration, microchipped (international standard ISO chip), and DNA verified for parentage. Shipping is available and generally costs around $300 within the US.
To view previous litters, click here.
To jump straight to available puppies, click here.
HOW WE RAISE PUPPIES
Our puppies are raised underfoot, quite literally. 🙂 They are born in one of our bedrooms, and spend their first 4 weeks or so there, being handled daily and gently exposed to the normal life of the household- other dogs barking, vacuuming, etc. We provide a variety of flooring and toys, as well as a litter box as they become more mobile, and at 4 weeks, move them to larger quarters in the living room so that they are exposed to more stimuli and the other dogs in the household. Gentle climbing/agility toys, socialization with other household dogs and human friends of the family, pre-housebreaking and crate training all commence over the next few weeks. While we cannot claim to be a Puppy Culture-certified breeder, we incorporate many principles of this rearing system and hope to incorporate more in the future. Puppies are introduced to the concept of clicker training and we begin marking and reinforcing good behaviors such as eliminating in the litter box, sitting for attention, chewing on appropriate items, and tolerating grooming tools and equiment around 5-6 weeks. Weather permitting, we also begin taking puppies for pack hikes in the national forest around our house once they've received their first vaccinations. (Winter puppies have had to make do with car outings and short trips to the meadow just up the road- temperature extremes have made our off-leash areas less than welcoming for tiny babies at the moment.)
Our overall goal is to produce confident, social puppies who step into their new families in as stress-free a manner as possible, with as many tools as we can give them to become the ultimate companion dogs.
UPCOMING LITTERS
Glow x Sven/Thor – Born 1/23/18 – 2 girls (1 red/tan, 1 black/white), 2 boys! (both red)
The Hogwarts Founders Litter
Another exciting litter! Glow is our sweet copper and white girl, and we are so excited to see what she will produce with Sven. Sven comes to us as a successful producer from Pomsky Northerns in Utah and is a black tricolor carrying chocolate and blue. Puppies will be on the larger end of the scale, probably from 25-35 pounds, but some of Sven's kids have been significantly smaller. We did end up doing a dual-sired breeding for this litter.
Legend x Sven – Born 1/28/18 -! 3 girls (2 agouti/white, 1 red husky-marked) and 3 boys (1 agouti/white, 1 red/white husky marked, 1 mystery splash marked)
The Wonder Woman Litter
Our other F1B litter planned. Legend is a petite grey and white, parti-eyed girl who enjoys nosework and tolerates rally obedience. Legend is a lovely combination of bold and independent, a great ambassador for the breed with people but a bit of a prima donna in the house! Sven compliments her with gorgeous round bone and a very plush coat, as well as an easygoing temperament. Puppies from this breeding will probably be between 20-35 pounds. We've decided to do this litter as a dual-sired litter. All puppies will be DNA tested for parentage.